The Polly Pocket Hidden Places Dance Par-taay case and Beach Vibes Backpack each open to reveal a larger-themed Polly world and are great to take on-the-go for Polly Pocket adventure play anytime anywhere. The Beach Vibes Backpack opens to reveal a sand and sun beach scene and areas to hang out for the ultimate beach vibing. Backpack includes additional secret reveals micro Polly and Shani dolls micro speed boat vehicle plus beach and food accessories. Each sold separately subject to availability. Colors and decorations may vary.
---

Tiny But Mighty Adventure!

Thanks to a magical locket she inherits from her grandmother, Polly can shrink to pocket-sized and embarks on tiny but mighty adventures! Fans everywhere will love this line of products that are big on detail, design and incredible value!

Larger Dance-Themed Polly World

Polly Pocket Hidden Places Dance Par-taay! Case is caboodle-shaped and opens to reveal a larger dance-themed Polly world complete with Polly and Lila dolls and these areas: upstairs DJ booth; stairs to dressing room area; and performance stage with disco ball.

Groovin' Secret Reveals

Dance Par-taay! Case has these secret reveals: spin the chocolate fountain to make the dance floor spin (dolls stick to the dance floor); twist the disco ball and turntables on the DJ booth spin; dressing room curtain slides; seating swings out from under the VIP stage; and a table turns into a dessert counter.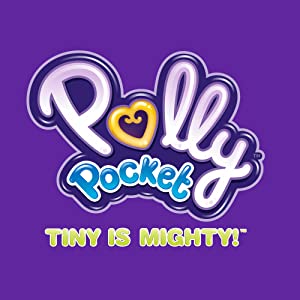 Crusin' Limo Ride & Accessories
Time for the Dance Par-taay! There's a limo (included) to get the girls to the dance party on time, plus camera with tripod, chair, microphone and guitar that slips over doll's shoulder to start strumming!