---
Product Description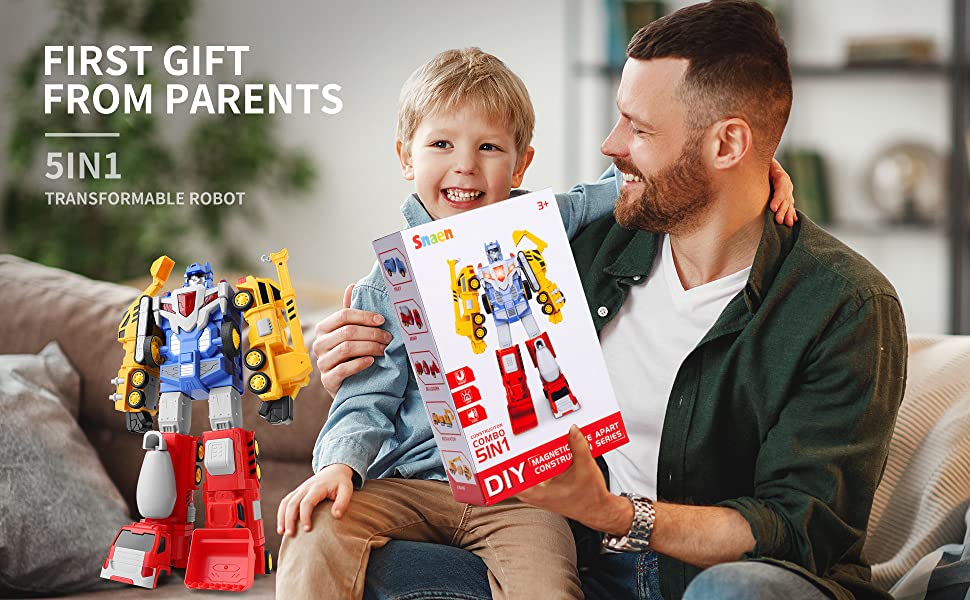 Why Choose SNAEN Magnetic Take Apart Construction Series?
Cool 5-in-1 Transport Play Vehicle Set that will surprise your child!
Come and learn about this ROBOT toy set ! ! !
The magnetic variable robot is a multi-play toy that can be played by multiple players. It can be an assembling toy, or a general mobilization toy that acts as a construction vehicle. Stitching a car is a creative activity. It can be spliced into different engineering vehicles through small modules. You can also combine five different cars into a robot through magnetic force to make your own ideas become reality, cultivate creative thinking, and cultivate logical thinking ability.Children will be immersed in taking apart the robot into trucks and rebuilding, providing hours of fun for your little boys or girls.
With high-quality materials, exquisite craftsmanship, and excellent design, this puzzle toy can stimulate children's curiosity and interest, and develop children's intelligence and imagination.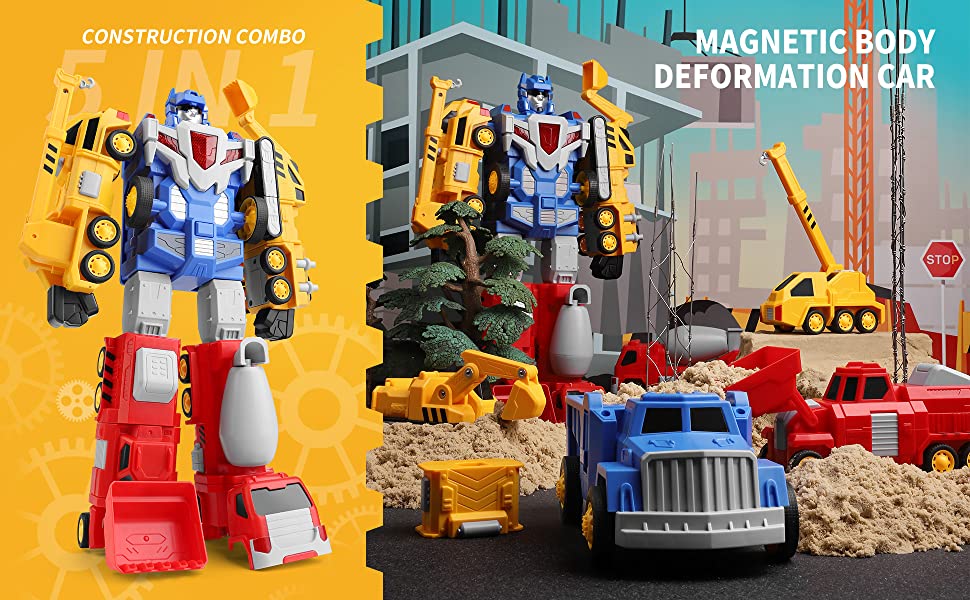 LEARN WHILE PLAYING
Excellent intellectual toys It can stimulate children's interest and curiosity. It is the perfect gift for child who loves deformation robot and has the dream of an engineer. The working parts of 5 vehicles can be rotated and moved, which make your little architect more realistically feel the fun of building his own base. It also can exercise their thinking, imagination, creativity skills.
MOST POPULAR GIFT

This 5-in-1 toy set is a perfect gift that suitable for children 3 4 5 6 years old, suitable for early education. You can use it as a gift for your son and daughter on Christmas, birthday, parties and New Year's Day.

SOUND & LIGHT EFFECTS

Realistic lights will flash with robot voice sound. Just push the button above the body to activate the sound & light effect. Requires 2-AA batteries (NOT INCLUDED).

MAGNETICALLY ASSEMBLED

5 in 1 Magnetic assembled DIY Construction Trucks Set are connected by magnetic spots, which make it super easy to combine and detached. The strength of magnet is designed to protect the safety of children.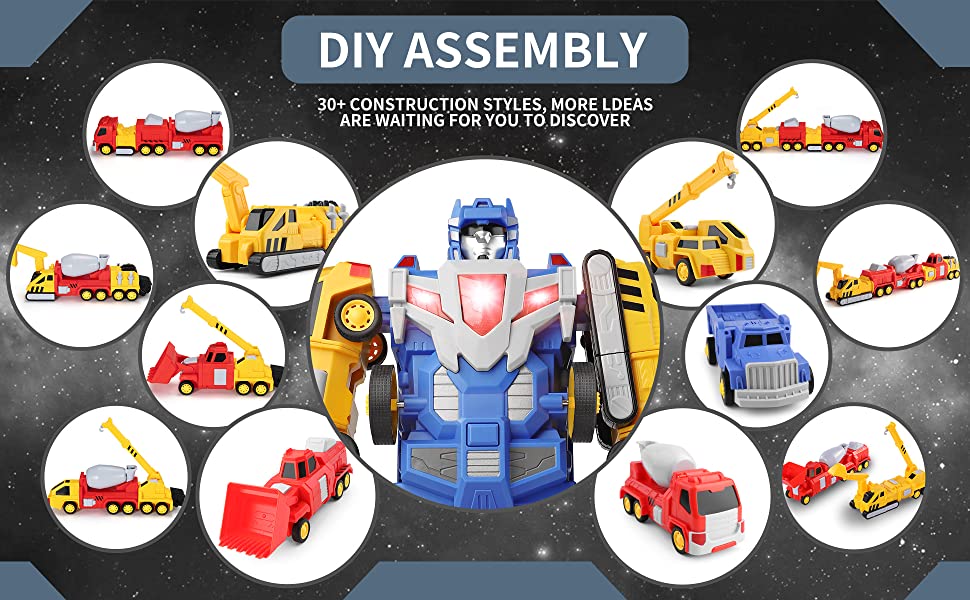 MORE PULL-BACK TRUCK COMBINATION
As there are 5 different types of construction vehicles along with a carrier truck. This toy has more than 12 small parts, giving it a variety of potential combinations. For example, they can build longer cranes, or form multi-purpose trucks with both crane and excavator functions. Each truck can move independently.
| | | | |
| --- | --- | --- | --- |
| Bulldozer | Mixer truck | Excavator | Crane |