Skip-Bo is the ultimate sequencing card game from the makers of UNO! Players use skill and strategy to create stacks of sequentially numbered, ascending cards (2,3,4…) until they have no more left to play. Once everyone is dealt their own personal stockpile of cards, play begins by drawing from a central pile and building up to four "build" piles. The Skip-Bo "wild" cards break up static situations and may be played as any number. Use these cards wisely, for they can really help you beat your opponents! The first player to deplete all of his or her Skip-Bo stockpile cards is the winner! Includes 162 cards and instructions. Colors and decorations may vary.
---
From the manufacturer
Build With Skip-Bo!

Get in the competitive spirit with the Skip-Bo card game where players skilfully build their own stacks of sequentially numbered, ascending cards.

Create Stacks

To begin the game, players are dealt the same amount of cards face down into what becomes their personal STOCK pile. During play, they draw from a central DRAW pile and work towards starting up to four BUILDING piles. Each pile is then built up numerically in sequence, 1 through 12. The first player to deplete their pile wins!

Extra Twists!

A Skip-Bo card is "wild" and can be played to start a BUILDING pile or as any other number, too. These cards are perfect for breaking up static situations or helping to beat your opponents.

Strategize!

This game presents numerous opportunities to strategize: the organizing of cards into the discard piles, avoid setting up the next players for good plays, knowing when to play from which option and especially the timing of playing a valuable "Skip-Bo" wild card.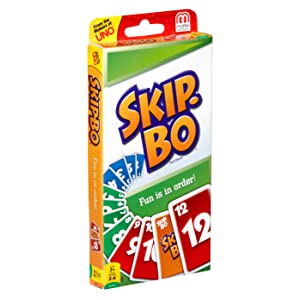 What's in the box?
Includes 162 cards and instructions.