---
From the manufacturer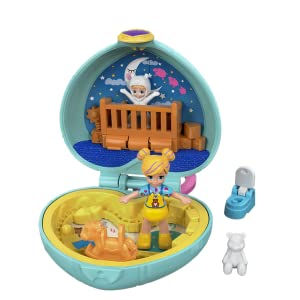 Polly Pocket Teeny Tot Nursery
Tiny is Mighty! takes on whole new meaning with the Polly Pocket!
It's sleepy time at the Teeny Tot Nursery with Polly doll and her baby brother Paxton Pocket.
Compact opens to reveal Paxton's nursery complete with 2 movements and 3 accessories.
There's a crib that opens for baby Paxton Pocket doll, a rocking horse he can play on, his teddy bear BooBoo and more.