So many hilarious ways to get creative with this Play-Doh T-Rex toy for kids 3 years and up! Imagine prehistoric adventures again and again with the green dinosaur figure, pterodactyl friend, and 3 Play-Doh eggs filled with 2.5 ounces of non-toxic modeling compound. Hear the dino crunch, gulp, slurp, toot, and burp as kids engage the jaw-chomping action and watch Play-Doh bits go through the tummy and out the backside. The toy pterodactyl friend makes little half-eggs for the nest. It's a totally roarsome dinosaur toy for boys and girls 3-5, or a great gift for kids who love dinosaurs!
Hasbro, Play-Doh, and all related properties are trademarks of Hasbro.
---
From the manufacturer

Adventures Await with the Dino Crew
Ferocious fun awaits when you combine dinosaurs and Play-Doh play! Take imagination back to the prehistoric days with this dinosaur playset for little dino fans 3 years old and up.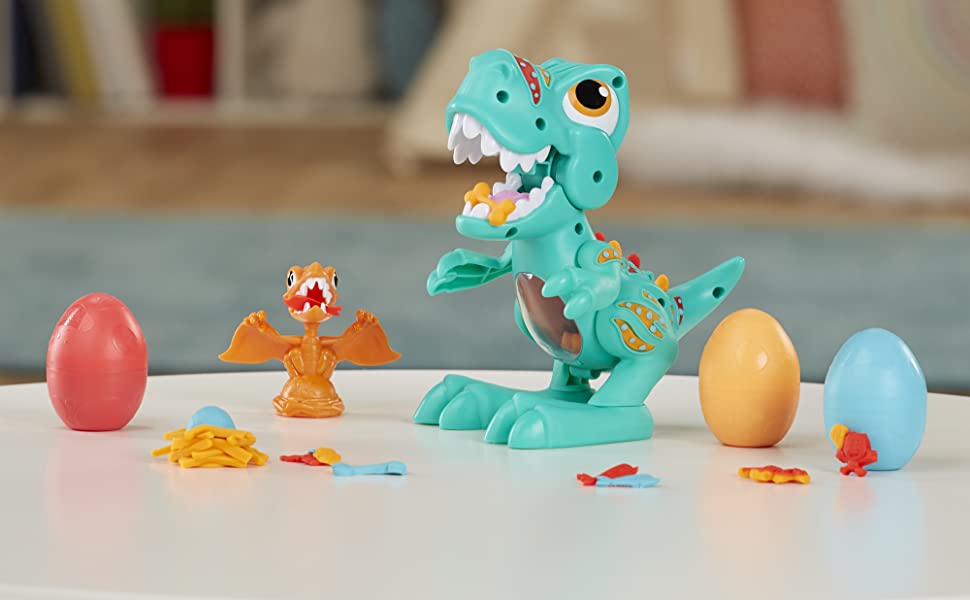 PRODUCT FEATURES
Adopt Your Own Crunch-asaurus Rex

It's your very own Play-Doh pet dinosaur! Well, sort of. With laugh-out-loud sounds and chomping action, it's sure to spark plenty of dino-mite creative ideas.

Crunch, Crunch…Gulp…BUUUURP!

This dino could certainly use a lesson in table manners! Silly sound effects help kids have fun playing pretend with the things they make out of Play-Doh compound.

Everybody Poops, Including Dinosaurs

After the T-Rex chomps up your Play-Doh creation, watch the bits fall into its stomach, then have a good laugh when it poops them out!
Includes
Crunchin' T-Rex figure, pterodactyl egg mold, and 3 eggs filled with Play-Doh Brand Modeling Compound (net weight 7.5 oz/213 g).