---
From the manufacturer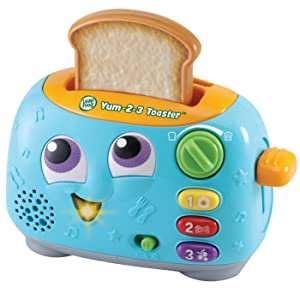 LeapFrog Yum 2-3 Toaster
Toast up fun with a side of learning! Pretend to cook up and serve a delicious breakfast for a friend using the nine different foods and utensils. Intended for ages 12 months +
Role-play fun
Role-play making egg and bacon sandwiches and pretend to spread berry jam on toast using the role-play knife. Use the handle to pop up the toast whilst being introduced to opposites.
Learn numbers & colours
Turn the dial to choose whether you would like light or dark toast and press the three breakfast food buttons to learn numbers 1-3, colours and foods. The toaster mouth lights up for phrases and five sing-along songs.