G.I. Joe Is A Highly Skilled, On-Demand, Special Operations Force Of Men And Women From Around The Globe. These Extraordinarily Talented Heroes Are Selected For Their Elite Abilities And Tasked With Defending The World From Cobra, A Ruthless Criminal Organization Bent On Total Domination. With Unwavering Courage And Steely Determination, The Brave Members Of G.I. Joe Are Prepared To Seek Out Cobra In Any Environment On The Planet. From Hostile Jungles To Ice-Clad Arctic Peaks Wherever There'S Trouble, G.I. Joe Is There.This Lady Jaye Figure Comes Ready For Action, With Multiple Points Of Articulation For High Poseability And 8 Character-Inspired Accessories. And With Custom Artwork By Scott Fischer, The G.I. Joe Classified Series Lady Jaye Package Will Make A Mark On Shelves.
---
From the manufacturer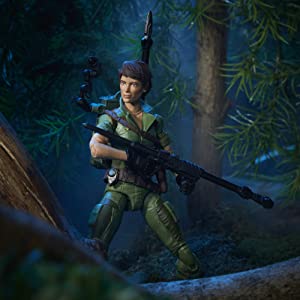 Yo Joe!
The world of G.I. Joe has always evolved to reflect the times we live in, and the evolution continues with the Classified Series. Whether you're dipping your toe into collecting G.I. Joe figures for the first time, the fifth time, or the four hundredth time, the G.I. Joe Classified Series line of action figures captures the pulse-pounding excitement of G.I. Joe in a 6-inch scale. Each figure features detailing, accessories, and multiple points of articulation that raise the vibrant heroes and villains of G.I. Joe to the next level. And it's all showcased in collectible display-worthy packaging featuring custom artwork by talented artists from around the world, commissioned by Hasbro to put their iconic stamps on classic characters.
Product Features
Classic G.I. Joe Design in 6-Inch Scale

G.I. Joe Classified Series is loaded with iconic personalities from the epic history of the G.I. Joe franchise. These fan-favorite characters are presented in 6-inch scale with premium detailing, packaging, and accessories, with advanced articulation that raises the vibrant heroes and villains of G.I. Joe to the next level. With a robust roster of G.I. Joe and Cobra characters, the Classified Series of G.I. Joe action figures pays homage to the past while embracing the modern, for G.I. Joe fans new, old, and in between.

Mission Critical Detailing and Design, From Figure to Package Artwork

G.I. Joe Classified Series figures are packed with character-inspired detail, a high level of deco, and iconic accessories. Figures feature multiple points of articulation, which allow for dramatic poses. (Some poses may require additional support.) All of this combines to create a premium Red Ninja figure that looks dynamic on display and is always ready for action.

Mission Compatibility Profile

Codename: Lady Jaye File Name: Alison R. Hart-Burnett Birthplace: Martha's Vineyard, MA Faction: G.I. Joe Role: Covert ops Mastery: Disguise A master of blending in wherever she goes, Lady Jaye doesn't just disguise herself as her subject, she becomes her subject. She mimics body language, quirks in dialect, and even the subtle gestures that mark each person like a fingerprint. She speaks countless languages with a perfect accent, enabling her to go undercover in any region around the glove and spy on Cobra operations.
Important information
Safety Information
WARNING: CHOKING HAZARD – Small parts may be generated. Not for children under 3 years.