¡Vamos a dar un paseo, bebé! Las etapas inteligentes Laugh & Learn con Puppy Walker son el compañero perfecto para tu bebé en crecimiento, ofreciendo emocionantes actividades prácticas para pequeñas personas y toneladas de frases alentadoras y apoyo para esos primeros pasos. A medida que los más pequeños crecen y van, el contenido de aprendizaje de Smart Stages introduce el alfabeto, formas, colores, contando e incluso palabras españolas. Los pequeños músculos obtienen un gran entrenamiento mientras los bebés sentados alcanzan e interactúan con las actividades y luego tira hacia arriba para pararse y caminar detrás del caminador. Los bebés se introducen a causa y efecto mientras descubren cómo activar la música y las frases pulsando los botones o empujando el andador.
---
Más información del producto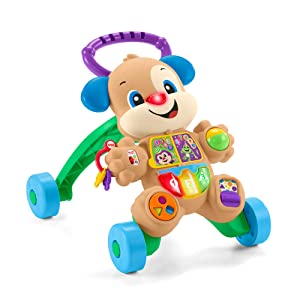 Who's walking who?
The journey around the coffee table can be a tough one. Luckily, your little traveler has a puppy pal to lean on and learn from with the Laugh & Learn Smart Stages Learn with Puppy Walker. Exciting hands-on activities keep younger babies busy, while more than 75 songs, sounds, tunes and phrases encourage older babies to get moving, rewarding every step!
​Features
| | | |
| --- | --- | --- |
| Got your nose! Lots of fun lights, sounds and Smart Stages learning help keep them going and growing | ​This dog is extra-fond of walking and plays music & sounds to keep your toddler strolling along | Puppy introduces your baby to the alphabet, numbers, colors, shapes and more |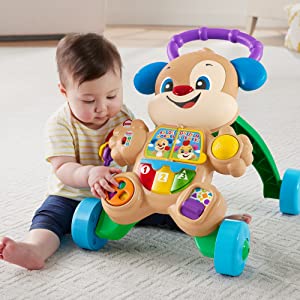 Let's be kids
Fisher-Price might be almost 90 years old, but we don't act a day over five. Because the only way you can make awesome things for babies and kids is to put yourself in their tiny shoes. That's why we've made it our mission to put the fun back in functional baby gear and the play back in playtime. We're heading back to childhood. Wanna come?
Switch up the Smart Stages learning as they grow
Level 1 – Explore (6 months+): Seven hands-on activities, like flipping the book page and pressing the keys, keep little hands busy and introduce your baby to colors, shapes, and numbers.

Level 2 – Encourage (12 months+): In this level, little ones will hear Puppy asking them to find different shapes and introducing them to first words in Spanish

Level 3 – Pretend (18 months+): As little ones flip the book pages, they'll hear fun phrases and a song that bring the pictures on the pages to life.