Looking for Frozen 2 toys for girls? The eKids Frozen 2 Singalong Boombox is finally here to provide hours of karaoke fun. Every fan of the Disney film is sure to sing their heart out with this adorable boombox designed especially for little princesses who love to perform. Use the real wired microphone to amplify your voice as you sing along to the built-in song clip, "Into the Unknown", just like Elsa! Connect any compatible audio device with a 3.5mm audio jack (including smartphones, tablets, computers) to play your own music collection through the built-in speaker. A multi-colored light show adds to your karaoke experience, making sure you are always in the spotlight. Featuring adorable graphics inspired by the film, this Frozen boombox has everything you need to perform your favorite playlists!
---
Más información del producto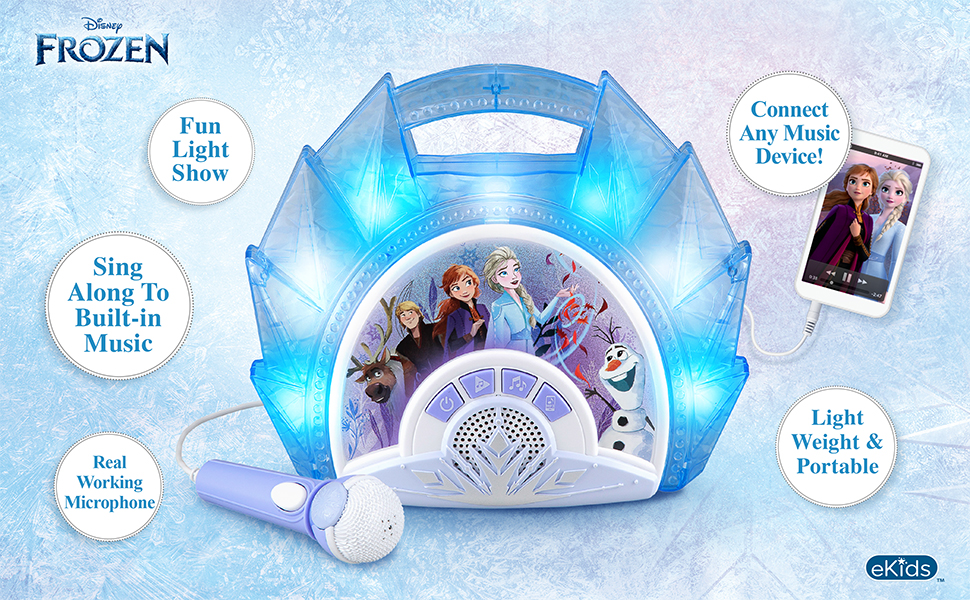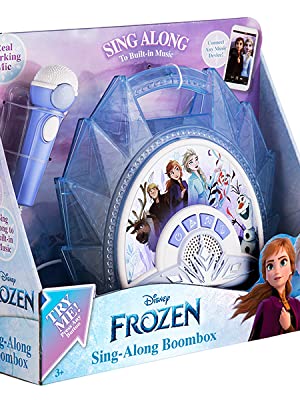 Who We Are!
we are one of the leading manufacturer of cutting edge, interactive electronic toys, learning aids, and real electronics for kids of all ages. We understand and respect the importance that toys play in kids' lives. With that responsibility in mind, we combine state-of-the-art technology with old-fashioned fun to create innovative, exciting, and enjoyable products that kids will love and parents can trust.
Disney Frozen 2 Sing Along Boombox With Microphone
Frozen 2 Sing-Along Boombox is finally here!!
Every little kid is sure to sing her heart out with this adorable boombox. Use the real microphone to rock out with built-in lights and music, or connect your audio device to perform your favorite playlist!
Real Microphone

Built-in Music

Flashing lights

Built-in Speaker

Portable and lightweight design

Ages 3 and up

Perfect toy or gift