Grab your mittens and finish off that hot chocolate, the snow angel competition is starting soon. Toddlers can enjoy hours of ice skating adventures without even bending over with this Disney Frozen Arendelle Winter Wonderland set from Little People. This kid-friendly playset comes with Disney Frozen Anna and Elsa character figures and features realistic ice-skating action, a manual swing for the figures to ride, and some friendly familiar faces to visit around the park.
---
More product information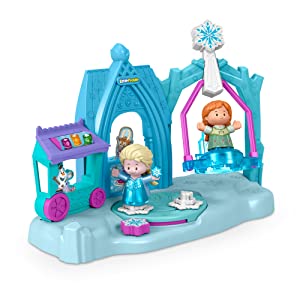 ​"Skating" in a winter wonderland
​Young Disney fans can create their own exciting Frozen adventures with this Little People playset featuring Elsa and Anna character figures! Kids can enjoy a "wintry" day in Arendelle with the adventurous sisters as they "skate" along, go for a swing, and visit with their pals, Sven and Olaf.
Features
| | | |
| --- | --- | --- |
| Use the lever to send Elsa sliding, "skating", and twirling all around! | Higher, higher! Swing Anna back and forth on the working swing. | ​Spin, spin, spin the roller atop Olaf's cart. |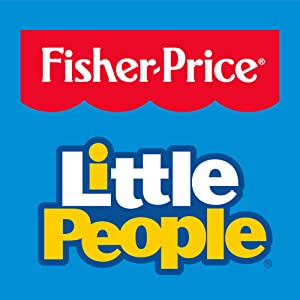 What a wonderful little world
Hay is for horses – but so are hugs. That's just one of the little life lessons that toddlers learn when they play with their Little People friends. By creating kid-sized versions of real-life experiences, Fisher-Price Little People toys bring a whole world of adventures to the palms of their teeny hands.
​​Where development comes into play
Fine Motor Skills: As toddlers grasp and move the figures around, they're strengthening their dexterity and hand-eye coordination.

Imaginative Play: With easy-to-grasp figures and familiar characters, kids can use their imaginations to create fun stories as they play.