The Barbie Dreamtopia's princess dolls are dressed for any royal occasion or fairytale adventure in outfits with removable skirts, pretty tiaras and matching shoes. Each Barbie doll is inspired by her homeland — choose from Barbie dolls representing rainbow Cove, Sweetville and sparkle mountain. Tiaras and shoes complete each look with brilliantly matching colors. Collect all of the Barbie Dreamtopia's dolls and accessories and let your dreams take flight. Includes Barbie Dreamtopia's princess doll with removable skirt, tiara and shoes. Each sold separately, subject to availability. Dolls cannot stand alone. Colors and decorations may vary.
---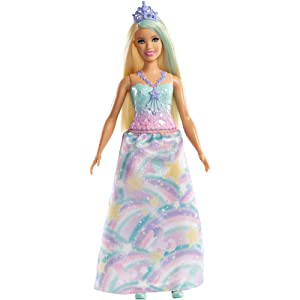 ​Dream Big with Barbie!
​Discover the magical, make-believe world of Barbie Dreamtopia! Imagined by Chelsea, the youngest sister of Barbie, Dreamtopia is filled with fantastical lands that have sparkling characters from a gemstone mountain, cotton candy clouds with flying fairies or rainbow rivers and mermaids, like this princess Barbie doll who shimmers with rainbows.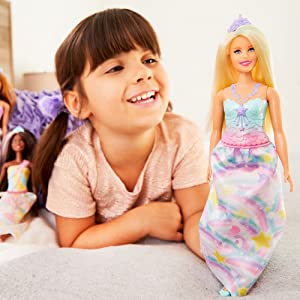 ​Barbie Dreamtopia Princess Doll Inspires Fanciful Storytelling!
​Barbie princess doll wears a unique look with fantasy details inspired by rainbows. Her bodice has colorful ombre shading and a purple necklace detail with a star and glittery touches. The skirt — removable for fashion fun — also has a shimmery effect that makes the unicorn and rainbow print even more magical.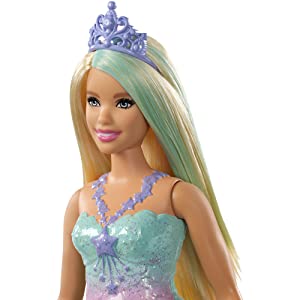 ​Fantasy Features for Fairytale Fun!
​Barbie doll inspires fairytale fashion and fun with a pair of matching shoes — teal with a cute bow. And a blue headpiece can be taken on and off to add to more color to her teal-streaked blonde hair for a fantasy look. Accessorize for endless fairytale adventures.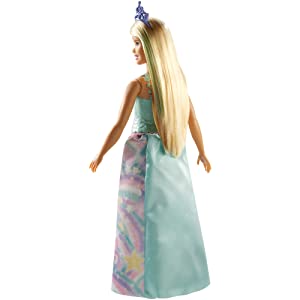 ​You Can Be Anything With Barbie!
​Young imaginations can play out all kinds of stories with princess Barbie doll. Collect all the Dreamtopia dolls and toys to build out the magical world. Create new fairytales, explore new lands and sail away with Chelsea and big sister Barbie to magical lands where adventure never stops and imagination soars!​